A website that provided a link between the regular internet and dark web marketplaces offering illegal goods and services in exchange for crypto has been seized. Deep Dot Web went down earlier today with a seizure notice detailing the authorities involved with the bust.
The raid on the website appears to be a coordinated effort by various law enforcement bodies from around the globe. These include the US Department of Justice, Europol, Politie, and others.
Site Earning by Linking Crypto-Friendly, Illegal Marketplaces to Customers Seized
Visitors to a popular website detailing various aspects of the numerous crypto-friendly dark net market places that have continued to spring up since the original Silk Road was shut down and its founder, Ross Ulbricht, was sentenced to life behind bars, would have disappointed this afternoon to find that it has been seized. In place of the original home page, the following notice was displayed: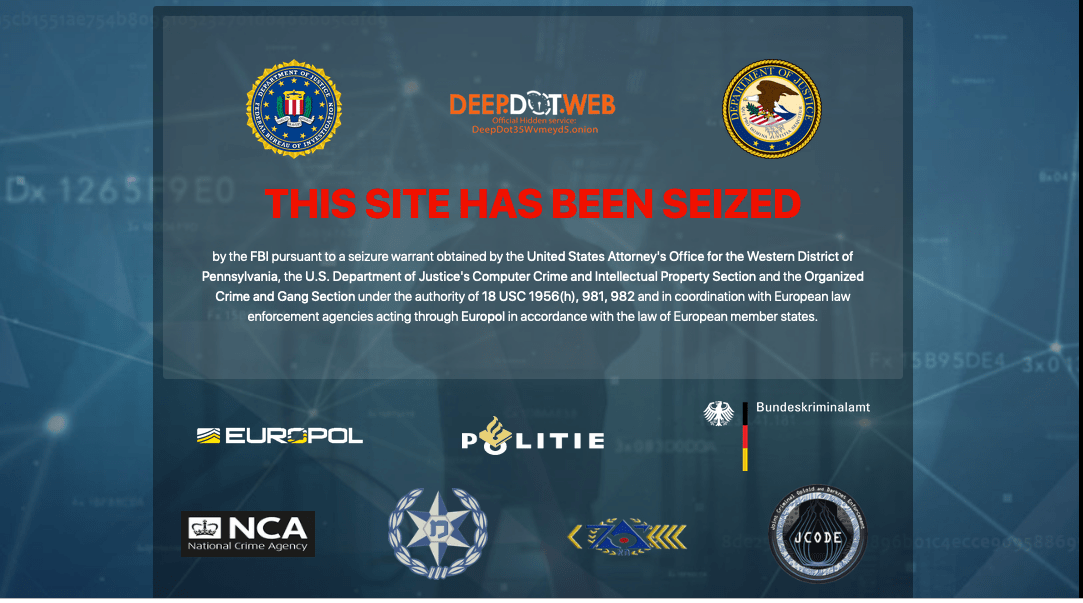 Whilst concrete details relating to the seizure are still hazy, a brief report published to OnionSpot, a website providing similar information as Deep Dot Web, speculates as to what might have gone on.
The post claims that both the hidden web service and the regular website have both been seized. It goes on to state that those behind Deep Dot Web were accepting crypto payments in exchange for necessary referral links to popular dark net marketplaces such as Dream Market and Wall Street Market – both of which have recently gone offline for reasons currently unknown. This business is thought to have made the operators a "couple of millions [sic.] in US-Dollar"
Finally, the report speculates that the site's operators' crypto-for-referral links scheme could cost them up to 15 years in prison each. The charges they likely face will be based around them facilitating illegal acts and breaking anti-money laundering regulations. One Twitter user commented on the news:
Turns out knowingly accepting money that was obtained via illegal means is a crime. Crazy.

— Johnny Xmas (@J0hnnyXm4s) May 7, 2019
https://platform.twitter.com/widgets.js
It is believed that the seizures today were the culmination of a joint effort between various law enforcement authorities over the course of a year-and-a-half. Arrests have reportedly been made in Tel Aviv and Ashdod, as well as Germany, France, the Netherlands, and Brazil.
Unfortunately, Bitcoin and other crypto assets are still trying to shake off their shadowy past connections to such criminality. The first time many folks had heard about the number one digital currency was in relation to the original Silk Road website. In 2012 and 2013, it received extensive news coverage on mainstream media even before it was shut down. This has unfairly influenced much of the dialogue about digital currencies as they have received more public attention.
Back in 2013, Bitcoin was touted by many with a poor understanding of the technology as the perfect currency to use to deal in contraband goods and services. However, numerous arrests made by those using non-private crypto assets on the dark web have highlighted that the most popular digital asset is in fact very poorly suited to such a use case. Since all transactions are stored on a public ledger that requires no permission to view, firms like Chainalysis have helped carve an entire industry out of blockchain forensics and the pursuit of bringing online criminals favouring cryptocurrency to justice.
Related Reading: Rat Poison" Bitcoin Outperformed Most Traditional Asset Classes in 2019
Featured Image from Shutterstock.
The post Website Providing Links to Illicit Crypto Marketplaces Seized appeared first on NewsBTC.