Ethereum (ETH) prices stable
Constantinople and recent SEC's head comments bullish for ETH
Participation low but likely to rise as projects demand the coin
By all means, Constantinople is a demonstration of intention and Ethereum as a platform stands to benefit. Meanwhile, we are bullish on prices expecting that platform demand would see ETH prices rise above $170 in days ahead.
Ethereum Price Analysis
Fundamentals
We must acknowledge that cryptocurrency as a whole is just different. We are in the early stages of adoption, and before these global products break to the mainstream, developers must strike a delicate balance that fronts usability while simultaneously protecting users.
The real task is, therefore, striking that balance. It has been a hindrance thus far, and in a network whose native currency expands on what money stands with clarification from the US SEC, a lot must be done to improve the user experience.
With the realization that control brings with it added baggage of being in charge of security and the hassling part of being the risk manager, many are hesitant to jump into the bandwagon. All the same, the network developers are working on the base and despite a rudimentary UX, speed, cost, interoperability, and scalability is a top priority.
Candlestick Arrangements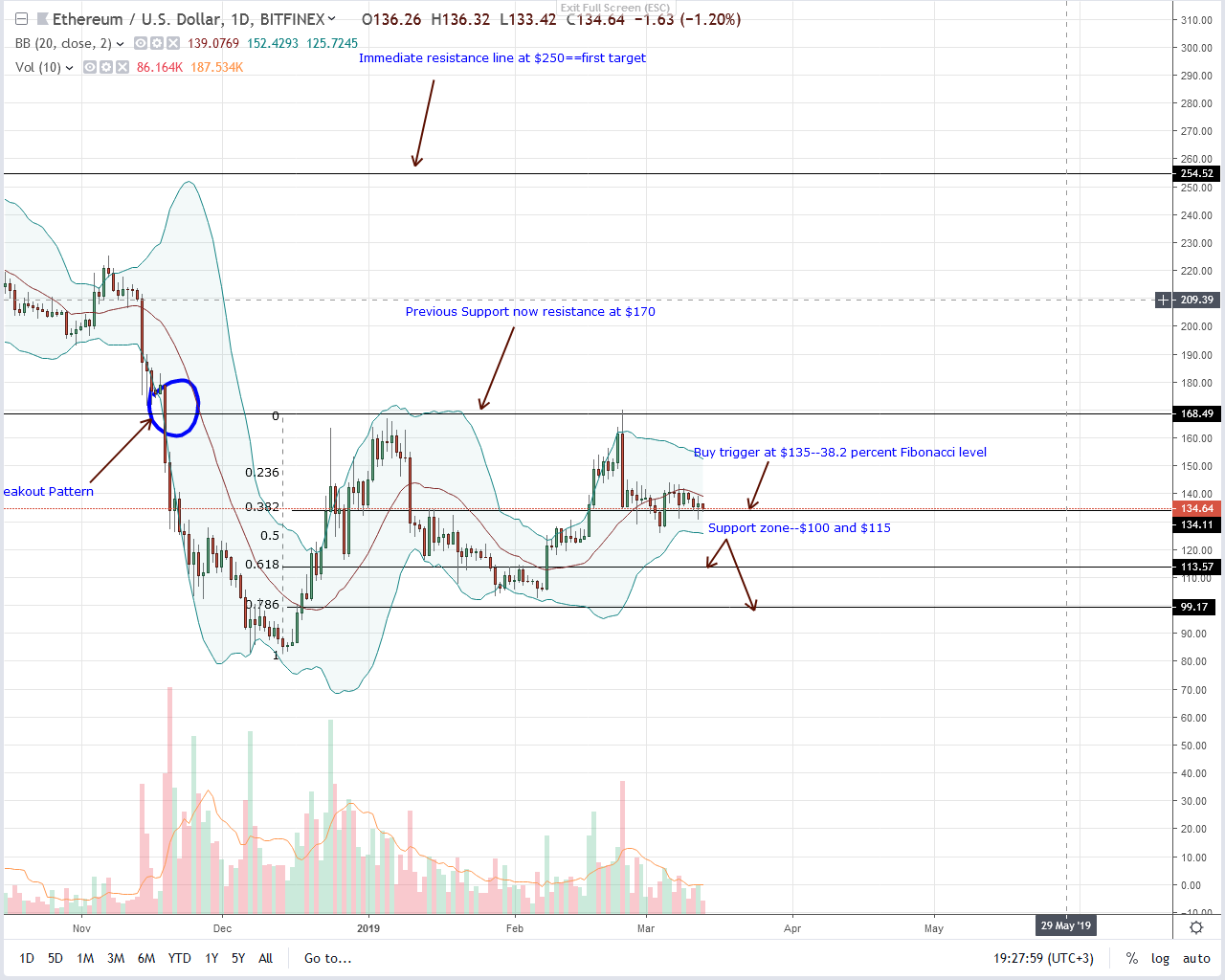 At the time of writing, ETH is stable but bullish. It is easy to see why. First, note that prices are still oscillating within Mar 5 high low. In an effort versus result perspective that is bullish. Add this to the failure of bears to drive prices below $135, very low—like in previous ETH/USD price analysis is, therefore, a loading opportunity.
Moving on, we expect prices to firm up within this $5 trade range as demand builds up in the lower time frame. Like before, aggressive traders can find entries on dips and with tight stops, a realistic first target is $170. The level is previous support and marks the breakout level of Nov 2018 meltdown.
As a result, it is critical that prices close above this level as such surges invalidate the bear breakout pattern and possible trend resumption.
Technical Indicators
Aside from Feb 18 and Feb 24 high volume bull bars, our anchor bar is Mar 5. At the back of ETH resurgence printing, a double bar bull reversal pattern is high volumes—302k. These volumes are above recent averages of 189k and reaffirm of bullish position. For buyers to be in control, prices must rally above $140 with high participation levels preferably above $310k driving prices.
The post After SEC's Endorsement, Ethereum (ETH) Likely to Rise than Tank appeared first on NewsBTC.